My wife and I like to do a deep cleaning of our living space at least once a month - cleanliness is next to godliness, after all. Since this weekend was the least busy we'll be until well after the holidays are over, we spent most of Saturday afternoon scrubbing dusting mopping, vacuuming, scrubbing, laundering, and bleaching all over the apartment. Along the way, we decided to divest ourselves of several items that were simply taking up space and were no longer needed in our household. Bags of unused clothing, forgotten cups and tumblers, and old purses were stuffed into Trader Joe bags and then loaded into our Kia (how's that for a white sentence?) for drop off at the local Goodwill.
Of course, that's not a chore to me - Goodwill is mystical shop of wonders to this cheapskate junk accumulator. There's bins upon bins chock full of discount vinyl, slightly used board games, vintage Christmas decorations, and sometimes there's even baseball cards and/or memorabilia - what's not to love? I think most of us on the blogosphere would agree that thrift stores rule!
That said, this trip was more about getting rid of junk that acquiring more, so I didn't do much more than a courtesy lap around the floor before making my way back home. However, while this particular trip didn't lead to any notable finds, I was reminded of my last Goodwill haul and how I still haven't written about it here on Wrigley Roster Jenga. Shame on me - I mean, this is basically my collector's diary.
Back in October, my wife and I were trying put the finishing touches on our Halloween costumes. In the end, we did complete our viking ensembles; but, as gratifying as that was, I was much more excited about another, completely different article of clothing that I came across:
There, on a random thrift shop hat rack in suburban Chicago, I happened to uncover an authentic Yomiuri Giants, souvenir baseball cap. What are the odds of that? Also, please excuse the scruffy, unkempt beard.... I was growing it out for the aforementioned viking costume, after all.
For those who are not up with Japanese baseball, these Giants are the oldest team among the current Japanese professional ranks. Additionally, while their name and uniforms were based on the New York/San Francisco Giants, the club is often regarded as "The New York Yankees of Japan" due to their widespread popularity and past dominance of Nippon Professional Baseball. They even had their own Babe Ruth, as the other-worldly slugger, Sadaharu Oh, bashed all of his 868 career home runs with the Tokyo-based ballclub. All told, I'd say that comparison between the Giants and Yanks appears to be apt.
Seeing as I am dedicated fan of a team that was, until recently, referred to as the "Lovable Losers," this kind of history is not usually one that I identify with; that said, there was no way that I was leaving this surprising oddity abandoned in with the discarded Boy Scouts and Little League caps.
It's your average trucker cap - a style I don't usually sport (though, again, this is a special exception) - with plastic mesh making up the back of the cap:
However, there is one defining feature in it's construction that distinguishes the Japanese hat from it's North American counterparts - just have a gander at that fastener. It's not a snap back, it's not a velcro, is not even one of those annoying belt-style backs, and it's obviously not fitted. In fact, the best way that I can describe is that it's like a reusable zip tie. I'm not particularly knowledgeable about the fashion stylings of Japanese culture, but is this a common style found in the land of the rising sun? I've certainly never seen this in the States. Maybe someone like the
NPB Card Guy
or
Zippy Zappy
could fill me in here.
According to the labels found on the inside, it's officially licensed by the Yomiuri Giants. However, I cannot make out the name of the manufacturer of the item. My ability to read Japanese is rusty... and by rusty, I mean non-existent:
Meanwhile, I mentioned earlier that I don't really identify with dynastic teams like the Yomiuri Giants. Were I to pick a team from the NPB, I would consider myself a Yokohama Bay Stars booster - a team who's history more closely parallels that of my favorite North American franchise. In fact, that's something that I discovered courtesy of
another surprise Goodwill find
. That being stated, these Giants do have a couple of old friends on their roster:
Former Cubs, Koji Uehara and Casey McGehee, are both currently rostered by Yomiuri. Of course, that could be temporary for both. After a one-year stint in Chicago in 2017 and a nine-year run in the MLB altogether, Koji returned to his native Japan and his original club for 2018. The reunion went quite well, as he was named to the All-Star team - however, he only signed a one-year deal upon his return. So he could be moving on again for 2019.
On the other side of the ball, McGehee posted a .285/.336/.467 slash in his second year with the Giants - a marked decline from his .315/.382/.514 marks from a year before. The infielder's contract includes a club option for 2019 - so, he too may be seeking employment for next season, if the Giants foresee a continued decline.
This all apropos of nothing; nevertheless, it's still cool to picture some familiar faces under that black and orange cap!
The former Cubs sporting their Giants digs in 2018. Images courtesy of the Japan Times.
Meanwhile, back at the ranch, as captivating as the Yomiuri Giants trucker cap find was, it wasn't the only baseball artifact in that Goodwill hat rack that caught my attention:
A White Sox hat? I know what you're thinking, "Tony - have you gone completely daffy?! Why would you, a rabid, blue-blooded Cubs fan, purposely purchase anything related to your South Side rivals?" To that I say, take closer look at the scribble found on the gray brim of this beat-up ballcap:
Hmmmm.... that looks like more than some random Little Leaguer's territorial markings... that appears to be a bonafide autograph. And, if you happen to be a big fan of forgotten relievers of the early 21st century, you might just recognize that John Hancock: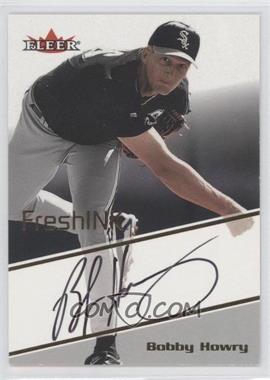 2000 Fleer Mystique - Fresh Ink #BOHO - Bobby Howry
That right there is the signature of Bobby Howry, one of the relative few players in the history of Major League Baseball to have suited up on both sides of Chicago. Not to mention, he was a key cog in the bullpen of the 2007-08 Cubs, the first back to back playoff appearances in one hundred years. Neato!
I must admit, that the hat is quite worn and well-loved - clearly somebody did not expect this encounter and took it right off of their head in order to mark the occasion. Also, it's still a White Sox hat. But, while it might be a "South Side Hitmen" relic, I couldn't leave this autograph of a former Cub behind, especially when it cost less than a burger and a pop at the local McDonald's.
Additionally, this is the second autograph of the closer/set up man that I've acquired in recent years - am I accidentally becoming a Bobby Howry super collector?
My pre-rookie Howry auto, card show find and the Cubs card which reps him in my CATRC.
These two awesome finds, plus the accessories needed to put the finishing touches on my viking outfit, made for an unusually successful and immensely satisfying Goodwill run. An unexpected artifact from a foreign land AND an autograph from a personal favorite ballplayer? That's quite the fun combination!
I'd say that this easily ranks among the best of my thrift store trips. On that note, what are some of your favorite finds? What crazy and exciting things have you come across at a Goodwill, Savers, Unique, or any other thrift shop location? Please feel free to share your experiences in the comment section below - I'd love to hear about them!
After re-living this experience, I'm almost tempted to do another deep clean of our apartment to create an excuse to drop off another round of donations at a different store location...