The MLB trade deadline is always a big day on my baseball card-collecting calendar. Of course, since I'm die-hard Cubs fans, I'm constantly trolling MLBTradeRumors.com, refreshing Twitter, and listening to *shudder* sports radio, hoping that my club makes a move to bolster their roster and improve their chances at talking home another World Series trophy. That being said, my fervent fandom isn't the only reason my ears are constantly perked, listening for any rumor that might be floating in the ether - remember, my marquee card collection is entirely roster related. By the end of the day, the chances of the Cubbies adding another name to their line-up card, and thus another target for my Cubs All-Time Roster Collection are rather high.
This year's deadline day was definitely not short on action - big names like Brian Dozier, Chris Archer, Jonathan Schoop, Wilson Ramos, and several others were shipped to contending clubs as the transaction market approached closing time. Even though the Cubs had already made a pair of high-ish profile moves earlier in the run-up, trading for Jesse Chavez and Cole Hamels, it was generally assumed that they would swing another move to fortify their beleaguered pitching staff before sunset.
The final 12 hours of non-waiver trading saw Theo Epstein's name all over the trade rumor feed. First, sources reported that the team had traded for Brad Ziegler... then, they didn't. Next, it was whispered that the Cubs were apparently chasing the former Dark Knight of New York, Matt Harvey. On top of all that, the persistent talks of the Cubs pulling a blockbuster for a cost-controlled, ace-caliber starter like Jacob DeGrom, Marcus Stroman, or Noah Syndergaard just would not die. Through it all, I ran my phone battery dead persistently refreshing Twitter, trying to figure just who might blow into the Windy City.
When the dust finally settled, just minutes before the 4:00 pm eastern cut-off, the Cubs did end up making a trade. Who was it? Who was going to be added to my CATRC?
While Brandon Kintzler isn't exactly a blue-chip name, this was exactly the kind of move Cubs fans should have been expecting. An established and reliable, late-inning bullpen arm who came at a minimal cost, with only an A-ball reliever, by the name of Jhon Romero, going the other way.
The former Milwaukee Brewer closer had been on the Cubs' radar last off-season, before eventually inking a one-year, $10 million deal with the Washington Nationals. Why? Because
the stats say
that the righty is an extreme ground ball specialist who doesn't walk many batters. Considering the North Siders' outstanding infield defense their moundsmen's propensity to issue free passes, his addition makes perfect sense. It's not a flashy move, but it's the right move.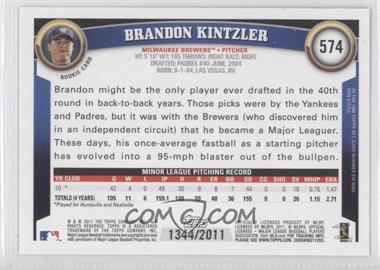 Also of note, I learned from the back of his 2011 Topps Series Two card (although I forgot to scan it) is that Brandon was twice drafted in the 40th round, spent time in the independent leagues, and had to toil for seven years in the minors before he was finally afforded a Major League chance. Since then, he's defied the odds to become a key cog in the bullpens of the Brewers, Twins, Nationals, and - now - the Cubs. I always find such stories of strife and dedication to be quite endearing.
Unfortunately, I did not have the above 2011 Topps single set aside and ready to be added to my CATRC upon his acquisition... in fact, I didn't have any cardboard whatsoever featuring the hurler, seeing as relievers get so little love from Topps and friends. Luckily though, since I am still on abbreviated summer work hours, I had time to immediately cruise on over to my LCS and rectify my little issue. There, with some help from the exceptionally helpful owner, I was able to locate Brandon's rookie card in a stash of 2011 singles.
Of course, I would have felt like a jerk if that spare change purchase was the only thing I bought from Baseball Dreams & Memories, especially since the owner so kindly helped me track down my man. With that in mind, I spied some loose packs of the recently-released Topps Big League and figured this was as good of an excuse as any to finally sample the old bubblegum company's newest product.
Of course, I grabbed a pack with Kris Bryant on the front - after all, I am a massive Cubs homer. In case you didn't already know, this fun, low-end product (ostensibly aimed at kids) features different configurations of players on pack wrappers and blaster boxes. I'd say it's a fun little quirk that adds some extra flare to the release.
As far as the contents go, I wasn't so fortunate as to walk away with any additional Cubs players. However, I did find it funny that several of the players found in the pack had been names swirling about the rumor mill not an even an hour before:
I must say, I've seen several a blogger and Twitter user casually mention how they might actually prefer the base design of Big League have been applied to a Flagship release and I cannot disagree. The borders, team color coordination, and KISS (Keep It Simple, Stupid) design would not feel out of place in such lineage!
The Pirates surprised everyone in baseball when they pulled off the blockbuster deal for former Cubs farmhand, Chris Archer, in the waning minutes of the trade deadline. I don't think anyone expected them to be buyers at the onset of the season, but a double digit win streak has pushed them into the Wild Card picture. Of course, giving up Tyler Glasnow and Austin Meadows was quite the steep price for a pitcher who's been little better than average over the past few seasons.
Ultimately, he didn't go anywhere, but Jose Abreu's name was mentioned more than a few times this July as a possible trade target. After all, the White Sox are in full-on rebuild mode and the veteran first baseman could, in theory, fetch a hefty prospect haul. Unfortunately for our south side neighbors, a massive slump in the month leading up to the deadline torpedoed his trade value.
This Player's Weekend card might look like an insert, but it's treated and numbered as a base card variation. These variants cover the jerseys and the player nicknames that were at the forefront of last year's popular player's weekend promotion. I had no idea that the Sox slugger's sobriquet was "Mal Tiempo," or "Bad Weather" in English - I guess it's fitting since Jose is known to drench opponents with a heavy shower of home runs!
The Mets have been almost comically bad after the first month of the season and I'm sure Yo's name would have come up in trade talks more often if he hadn't been hurt for most of the campaign. While his ailing heels and hip have sidelined him for nearly all of 2018, keeping him from being a shiny trade target, he still glitters on this golden parallel that I pulled from my impulse purchase.
Cespedes has been anything but durable over the past few years, which reminds me, these Big League cards don't feel so sturdy themselves. The cardstock is surprisingly thin - by touch, they feel almost like those annoying advertisements and promotional fliers that local companies stuff your mailbox with. I guess that's part of keeping the cost down on this product that's supposed to be marketed towards kids with little spending money.
Anyway, here's the rest of the contents of my first pack of 2018 Topps Big League:
Quite a bit of star power there, with Mike Trout and Cal Ripken, Jr.; that said, my favorite of the bunch has to be Bartolo Colon. I, like many a baseball fan, love that "Big Sexy" is still out there getting the job done on a Major League mound after all these years. Like Jamie Moyer before him, he's an age-less wonder that elicits the warm fuzzies of nostalgia every time he takes the field.
Nothing remarkable here, but Big League is fun, attractive-looking product that's not too hard on the wallet. I whole-heartedly approve - even if it kind out Flagshipped, Flagship.
The star of this purchase remains the 2011 Brandon Kintzler card, which slotted perfectly into my marquee Cubs All-Time Roster Collection the moment I got it home. After an afternoon filled with non-stop rumblings, ruminations, whispers, and rumors, while frantically trying to stay on top of the latest gossip, it was nice to unwind by flipping through my favorite binder and adding a new name to the all-time roster. While it wasn't DeGrom or Stroman, it's always fun to welcome a new ballplayer to the club.
Welcome to Chicago, Mr. Kintzler!